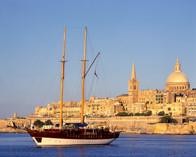 vivardo Language Travel, a Language Travel Agency based in Hamburg is proud to announce a 30% increase in Sales in 2010 inspite of the Global Economic Crisis felt by most companies.

vivardo Language Travel, specialize in English Language Courses in Malta and Gozo. "The Study holiday for families grows more popular every year," says CEO Martin Janicki. Family courses are ideal for parents and children wishing to travel together and combine an English Course with their holiday. The vivardo Language pack includes Flight Organization, airport transfers to and from the airport, learning materials as well as the organization of child care.
By setting up a Facebook Page in 2010 vivardo has opened up to even more direct communication with its customers. CEO Martin Janicki says " Our videos and photo impressions of Malta show you what a wonderful island Malta is for all the family. You might even want to try some of the Maltese Recipes we have to offer." On the facebook page, customers report their Language Holidays and give advice to anyone booking a similar Study Trip. CEO Martin Janicki says " Our customers are our best critics. The coming Year will be an incentive for us to improve our service ."

vivardo Language Travel offers individual and personal advice , taking into account the special needs and requirements of the customer in order to ensure total customer satisfaction.