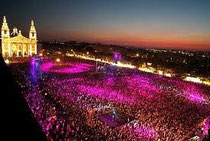 Since 2006 the highly popular Isle of MTV concert has been hosted on the sunny Mediterranean Island of Malta, showing epic performances over the years from some of the world's greatest talent! Over the years it has featured Lady Gaga, David Getta, the Black Eyed Peas, Kid Rock,Maroon 5 and Scissor Sisters among the top stars.
This year's Isle of MTV -MALTA Special (2011) is no exception with a whole host of Talent to guarantee that this year's event will be as good as ever!
SNOOP DOG, FAR EAST MOVEMENT, LMFAO and PARADE are some of the many famous artists featuring in this year's Isle of MTV - MALTA Special held once again at the Granaries in Floriana on June 30.
And Best of all - The entire Concert is completely FREE!!!
For your chance to be a part of the action why not combine an English Language Course to improve your English while enjoying the sun, sea and non-stop action and entertainment on this warm and friendly island!
So make your Holiday an unforgetable one. Come and Join in the Fun at the Isle of MTV concert in MALTA!!!!!!!!!